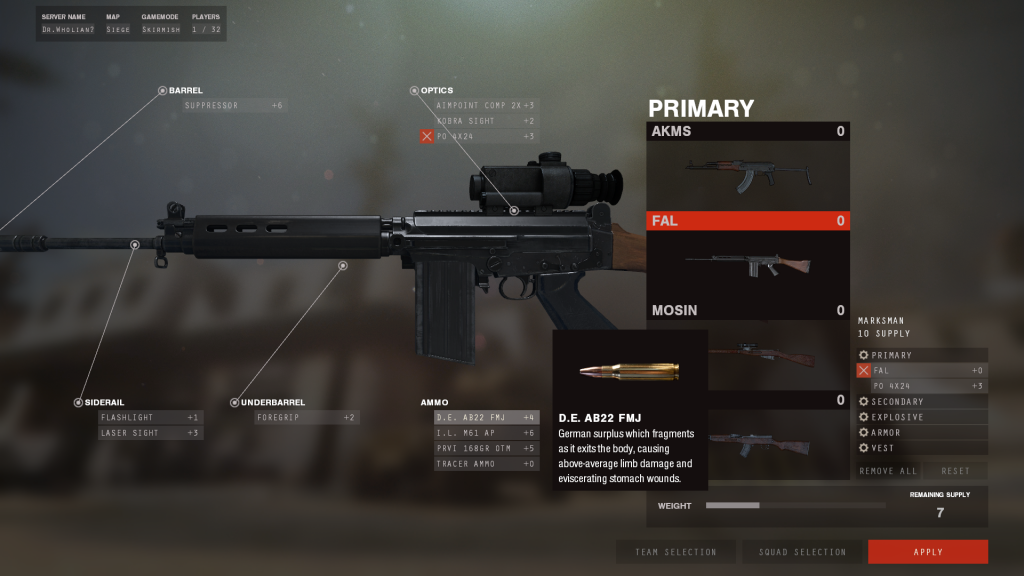 Now available on Steam Workshop, which offers auto-updating and client download, but breaks mapcycles:
http://steamcommunity.com/sharedfiles/fi...=310920757
I am back to hosting the non-workshop version (goes in your custom folder) until that issue is sorted:  
https://www.dropbox.com/s/0rbiuygaay3p6e...odv99f.vpk
Usage:
It's divided into "theaters" matching up various groups, as set for each map by the server admin.
gnalvl_insurgents-vs-socom
gnalvl_insurgents-vs-usmc
gnalvl_opfor-vs-usmc
gnalvl_opfor-vs-socom1
gnalvl_opfor-vs-socom2
gnalvl_rebels-vs-contractors
gnalvl_coop_usmc
gnalvl_coop_socom1
gnalvl_coop_socom2
gnalvl_coop_contractors
To select a theater use the "mp_theater_override" cvar in your CFG. For example, to test against bots, paste this into your listenserver.cfg:
"mp_theater_override" "gnalvl_opfor-vs-socom1"
...and then type "map siege firefight" into the console, or whatever map/mode combination you like.
You can specify theaters for your server on a per-map basis in a cfg named server_ or specify per-map and gamemode using cfg's named server__. In otherwords:
server_siege.cfg,
server_siege_firefight.cfg
try pasting the same "mp_theater_override" "gnalvl_opfor-vs-socom1" line in there.  
To host a dedicated server, follow the instructions here:  
http://steamcommunity.com/sharedfiles/fi...=266580040
Once the server is properly subscribed to the mod (id: 310920757) it will automatically download the latest versions of the mod, and automatically upload to newbie clients who try to join without the mod.
IS Zoom
By default, the game will no longer zoom in when you use iron sights or CQB optics. This allows you to maintain the widest peripheral vision possible when shooting in CQB. However, if you find it hard to see without a tighter FOV, there's a few different binds you can set to get it.
bind MOUSE2 "+toggle_zoom; toggle fov_desired 110 75"
Entering this in your console or into your config file will give you a 110 default FOV, and zoom you down to 75 when you press the ADS key. You can change "110" to "100" or "90" if you want a more moderate default FOV. You can also change "75" to any smaller number you like.
When using this bind, it's possible to have your FOV get reversed if you die while in ADS. For this reason, it'd a good idea to bind a "reset" key like this:
bind K "fov 110"
This will reset your default FOV to 110 when you hit K during "hipshooting" mode. If you don't like using K, change it to any key you want.
You can also set a key to change your FOV separately from using the sights. For example,
bind MOUSE5 "toggle fov_desired 110 75"
allows you to toggle FOV's with Mouse 5 even if you're sprinting or "hip shooting".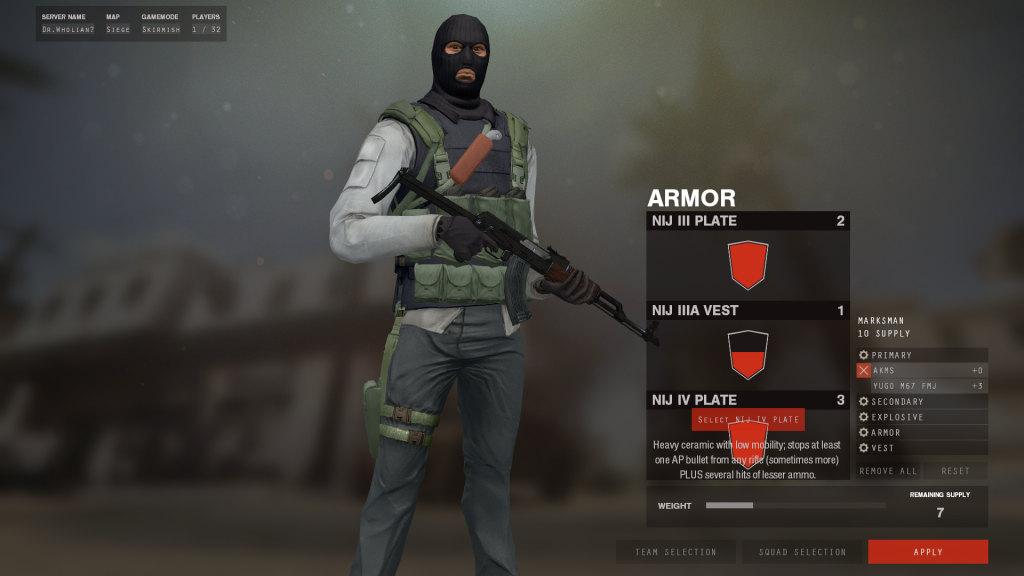 With that out of the way, here's a synopsis of what's changed in the mod:
Player Abilities
- sway has a faster speed over a smaller radius, reducing "drunken lean" effect
- walking during ADS causes the sights to wobble around more
- ADS has no automatic zoom, allowing you to retain full peripheral vision
- breath control (focus) functions more as a manual zoom key, with longer duration and less accuracy boost
- sprinting can't turn sharp corners, and has more momentum to it
- sliding is disabled
Squad Strucure and Loadouts
- squads divided into authentic fireteams
- removed redundant classes with dubious or flimsy roles
- renamed existing classes to make their roles obvious and consistent across teams
- loadouts and allowed gear are based on teams depicted in each theater
Gear
- armor divided into 3 "light", "medium", and "heavy" categories based on authentic NIJ classifications
- chest rig/carrier expanded to provide 5 options for how much ammo to bring with your 1 or 2 grenades
- ammo types overhauled to represent specific real life loads authentic to each team, and not limited to HP/AP/tracer
- recoil calculated based on caliber and weight, to produce more distinct differences in weapon handling
- dice roll accuracy eliminated by revising spread based on the weapons' real bench accuracy, multiplied 1.5 for human error
- damage overhauled based on real terminal ballistics, with more distinct balance between light, medium, and heavy calibers
- C4 throw distance reduced
- rocket flight paths are less random and erratic
- M16A4 converted to SDM-R for the 5.56 marksman role
- Mini-14 converted to AC-556 with select-fire, filling the mid-range 5.56 role for PMC's
- Mk18 available in 6.8mm conversion (MRP) for PMC's

<sup>(weapons with no stock have about double the recoil suggested by their weight and loading)</sup>
Theater-based Teams:
SOCOM1
- A specops force which is lightly armed to get in and out of enemy territory quickly. With only Mk18's, one M249, and one AT4 per squad, this team is better balanced for poorly-armed insurgent teams and less spammy gameplay.
SOCOM2
- A specops force following the common Infantry squad structure with two SAW gunners and two grenadiers per squad, this team is more authentic to common military squads, but the Mk18 keeps things from getting too overpowered.
USMC
- Armed with realistic M16A4's which cause FMJ to fragment like a hollowpoint for 150 meters, plus 3 SAW gunners, they are limited to a single squad following the unique marine structure of 13 mean (1 squad leader + 3 fireteams). Their heavy weaponry is balanced via smaller player count.
OPFOR
- Representing an entirely hypothetical guerilla force of trained militants, this insurgent team has full access to armor and a standard infantry squad structure to create symetrical combat with the security teams,
Insurgents - Representing a more realistic horde, this team get 19 player slots, but lacks access to armor. It's meant to produce asymetrical combat, especially when put against the 13 man USMC team. Server admins must turn off "balance teams" to make this work.
Contractors vs Rebels
- The name "rebels" is meant to suggest the less homogenous arsenal of insurgents in Libya or Syria. This matchup is simply meant to combine the more realistic weapon handling and movement of the mod with the softer class restrictions and wider, less authentic weapon selection of the default game.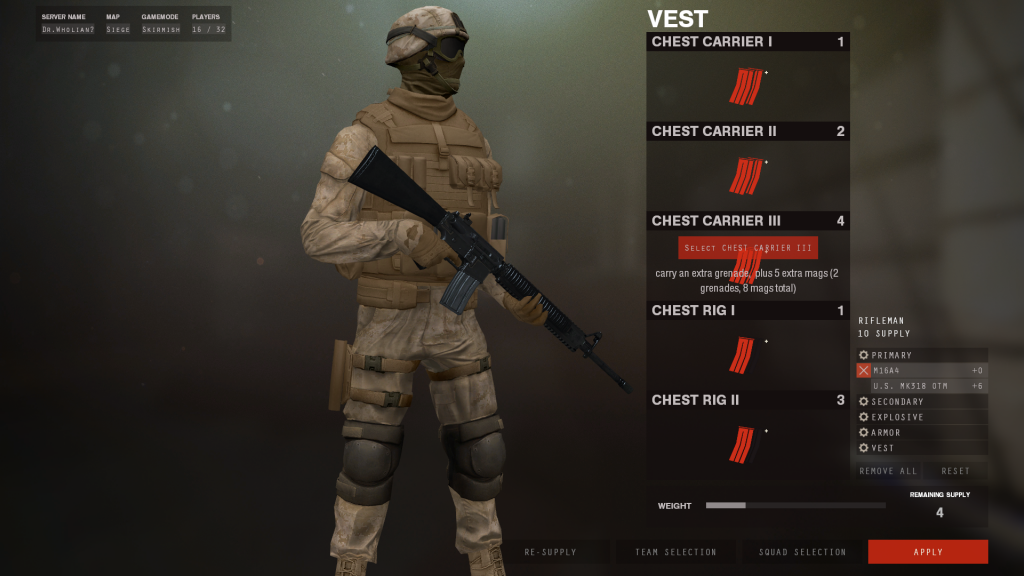 ...more details to come.
Special thanks to iLag and Jihad for sharing info about the theater system! I wouldn't have got anywhere with this otherwise.