Damn it!  I just cleaned my monitor yesterday, and now there's coffee all over it.  You guys suck!
And now for serious feedback.
Code:
$ inxi -F
System:    Host: joel-Desktop Kernel: 3.19.0-31-generic x86_64 (64 bit) Desktop: Openbox 3.5.2 Distro: Ubuntu 14.04 trusty
Machine:   Mobo: ASUSTeK model: M5A78L-M LX PLUS version: Rev X.0x Bios: American Megatrends version: 1701 date: 09/11/2014
CPU:       Quad core AMD Phenom II X4 965 (-MCP-) cache: 2048 KB flags: (lm nx sse sse2 sse3 sse4a svm) 
           Clock Speeds: 1: 2200.00 MHz 2: 3400.00 MHz 3: 2200.00 MHz 4: 2700.00 MHz
Graphics:  Card: NVIDIA GF116 [GeForce GTX 550 Ti] X.Org: 1.15.1 driver: nvidia Resolution: [email protected]
           GLX Renderer: GeForce GTX 550 Ti/PCIe/SSE2 GLX Version: 4.5.0 NVIDIA 355.11
Audio:     Card-1: NVIDIA GF116 High Definition Audio Controller driver: snd_hda_intel Sound: ALSA ver: k3.19.0-31-generic
           Card-2: Advanced Micro Devices [AMD/ATI] SBx00 Azalia (Intel HDA) driver: snd_hda_intel 
           Card-3: Fry's driver: USB Audio 
Network:   Card-1: Qualcomm Atheros AR93xx Wireless Network Adapter driver: ath9k 
           IF: wlan0 state: up mac: [Redacted]
           Card-2: Realtek RTL8111/8168/8411 PCI Express Gigabit Ethernet Controller driver: r8169 
           IF: eth0 state: down mac: [Redacted]
Drives:    HDD Total Size: 500.1GB (60.8% used) 1: id: /dev/sda model: ST3250410AS size: 250.1GB 
           2: id: /dev/sdb model: WDC_WD2500JS size: 250.1GB 
Partition: ID: / size: 214G used: 136G (67%) fs: ext4 ID: swap-1 size: 17.18GB used: 0.00GB (0%) fs: swap 
RAID:      No RAID devices detected - /proc/mdstat and md_mod kernel raid module present
Sensors:   System Temperatures: cpu: 46.0C mobo: 42.0C gpu: 59C 
           Fan Speeds (in rpm): cpu: 896 sys-1: 962 
Info:      Processes: 226 Uptime: 35 min Memory: 3466.5/16046.8MB Client: Shell (bash) inxi: 1.9.17
First thing I've noticed is that changing the game from 1080p fullscreen to 720p windowed doesn't apply correctly.  The game renders at and receives input as though it's at 720p, but it's stretched to 1080p and is in no way windowed.  Restarting the game fixes this.  This happens in Wine as well.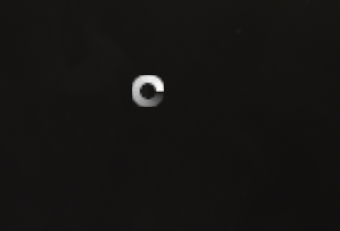 Dat Loading Circle!  I don't remember it being this ugly in 1080p.
No apply button after changing sound settings.  This happens in Wine as well.
Entered game and got all of 9fps.  Adjusted settings and now I'm getting over 100, higher than Wine with CSMT.  Still evaluating what caused the massive slowdown.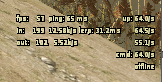 Could you perhaps make the net_graph text bigger when in 1280x720?  It's almost unreadable, as you can see.
After alt-tabbing back into the game I started turning around and, it froze.  It's ignoring SigTerm, forcing me to use SigKill.  According to htop, memory usage just exceeded 2GB.

The cause of my massive slowdown is MSAA.  Drops my framerate to 9fps for no explicable reason.
Just checked nvidia-settings, and Video memory usage is at 1009MB/99%.  Dropped Paged Pool Memory to low and now it's at 754MB/74%.  From what I remember, this is significantly higher than in Wine.  Anyway, that's probably what caused my crash.
Standing on top of the rock past the first house in Buhriz, conquer mode, I see some minor flickering graphical glitchiness.  It continues as I entered Alpha, making it hard to see down the main street from there.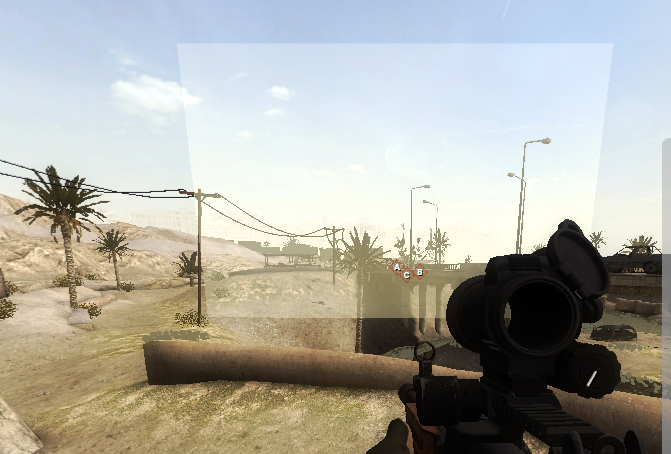 I threw a flashbang at an enemy, and it crashed the server.
Model 10 is awesome.  Standard reload animation is a bit glitchy [the first bullet I loaded disappeared then reappeared when the animation finished], but it's fun to use.  My one suggestion is that there's a slight delay between clicking and firing to simulate the double action trigger pull, which can be bypassed by pressing the change fire mode key to manually draw back the hammer, though I think this all comes from my love of Receiver and the weapon handling in it.
The flashbang server crash happened again.  I noticed that this time I died before the bang went off, and I think that also happened the first time.
Much of the flora in Kandagal seems to be permanently colored the distance fog color.  Not sure if it's a Linux client bug.  Also, the flora which isn't fog-colored has severe pop-in.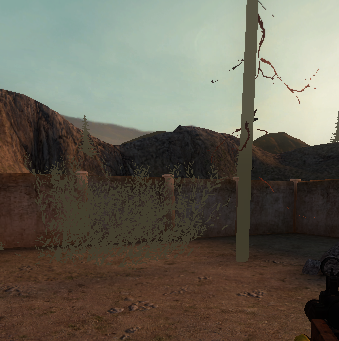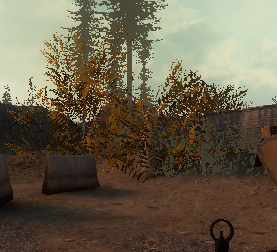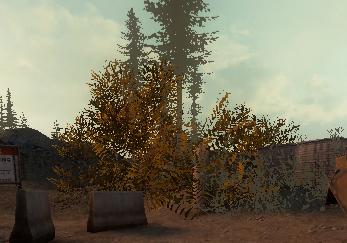 The death screen showed some obvious debug textures, so yeah I think this is just the map not being anywhere near complete.
Another flashbang server crash.  Was doing district in conquest hardcore with several others, and I was still alive.
And another server crash.  This time I don't think it was flashbangs.  I can't even finish a match wi
Galil is broken in Checkpoint mode.  One shot and I'm staring into the sky.  Pretty sure a gun with that much recoil would break my spine.  And then I fired it unsighted, and my spine really did break, rendering me unable to look in front of me for several seconds.
The client hasn't crashed once since I turned Paged Pool to low.  Appears to be perfectly stable, but high on VRAM usage.  I think this is more the fault of the Source Engine's Linux support, because Garry's mod has the same problem.  With the same settings in the same map, Insurgency in Wine uses 323MB/32% while Insurgency on Linux uses 754MB/74%, over double the VRAM.  I can't imagine why, other than texture compression not being used properly.  I would say this is the most serious issue of the Linux client.
Okay, that's enough testing for now.  Hopefully some of this helps.